GROUPS
Grandpa Sam had a vision to not only make the best pizza, but to also continue the tradition of family gatherings. That's why at Sammy's we'll make room for your large party. Whether it's in a private room or in the center of the restaurant, we're happy to serve team parties, birthdays, work meetings – you name it.
The restaurant has both small and large private dining rooms. The small room seats up to 20 people comfortably with a minimum $50 expenditure. The large room seats between 20 and 45 people with a minimum $100 expenditure. Both rooms are available for reservation.

If you're interested in hosting your next gathering at Sammy's, please give us a call at 218-263-7574 or fill out our contact form for details and availability.

CATERING
We offer limited catering for events in our delivery area. For those interested, please call the restaurant at least 24 hours in advance.
*Please note that we do not offer services for set up, clean up, or serving - but can provide disposable tableware, if needed.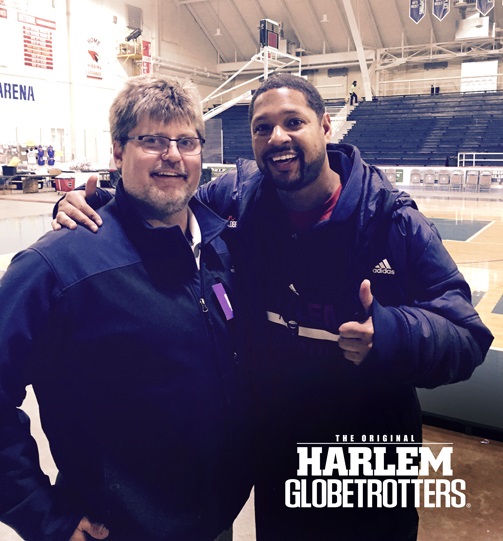 We had the pleasure of serving one pretty cool group recently after their game at Hibbing Memorial - The Original Harlem Globetrotters. Pictured, is Rich with "Handles" of the Globetrotters!